Join us every Wednesday in the Backstage Lounge & Bistro at The Point in Littleton, MA for Pizzapalooza – all-you-can-eat pizza and pasta buffets from 5 p.m. to 9 p.m.
Perfect for Hump Day dinner or your organization's fundraising event – O'Neil Cinemas will donate a portion of sales to nonprofit organizations looking to raise money for a cause.
Note: The fundraiser must be booked in advance.
Buffet includes:
Salads
Pizza (cheese, pepperoni, special)
Pasta (red, white sauces)
Meatballs/grilled chicken
Cheese fries
Nachos
Ice cream sundae bar
---
Pizzapalooza buffet prices (not including tax) are:
$9.99 for kids under 12
$11.99 for teens 12 to 16 and senior citizens
$14.99 ages 17 and up
*Beverages are also not included in the price of the Pizzapalooza buffet.
Seating is on a first-come, first-served basis; buffet offerings are while supplies last.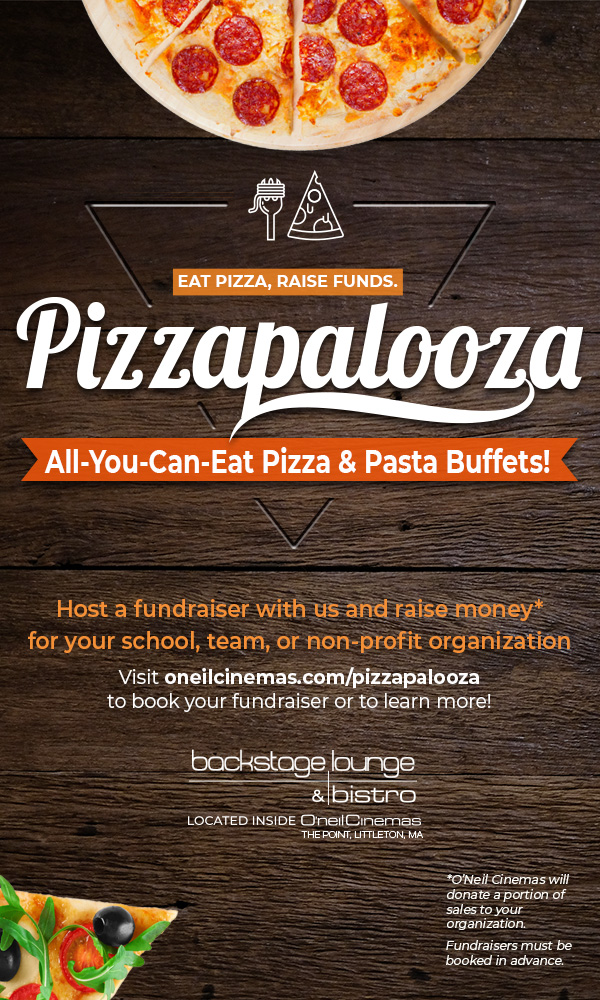 Ready to book your event?
To book a Pizzapalooza fundraising event, fill out this contact form below.