Host a Pizzapalooza, all-you-can-eat pizza and pasta buffet fundraiser at the Backstage Lounge & Bistro at The Point in Littleton, MA.
Perfect for your school, team, or organization's fundraising event – O'Neil Cinemas will donate a portion of sales to nonprofit organizations looking to raise money for a cause.
Note: The fundraiser must be booked in advance.
Buffet includes:
Salads
Pizza (cheese, pepperoni, special)
Pasta (red, white sauces)
Meatballs/grilled chicken
Cheese fries
Nachos
Ice cream sundae bar
---
Pizzapalooza buffet prices (not including tax) are:
$9.99 for kids under 12
$11.99 for teens 12 to 16 and senior citizens
$14.99 ages 17 and up
*Beverages are also not included in the price of the Pizzapalooza buffet.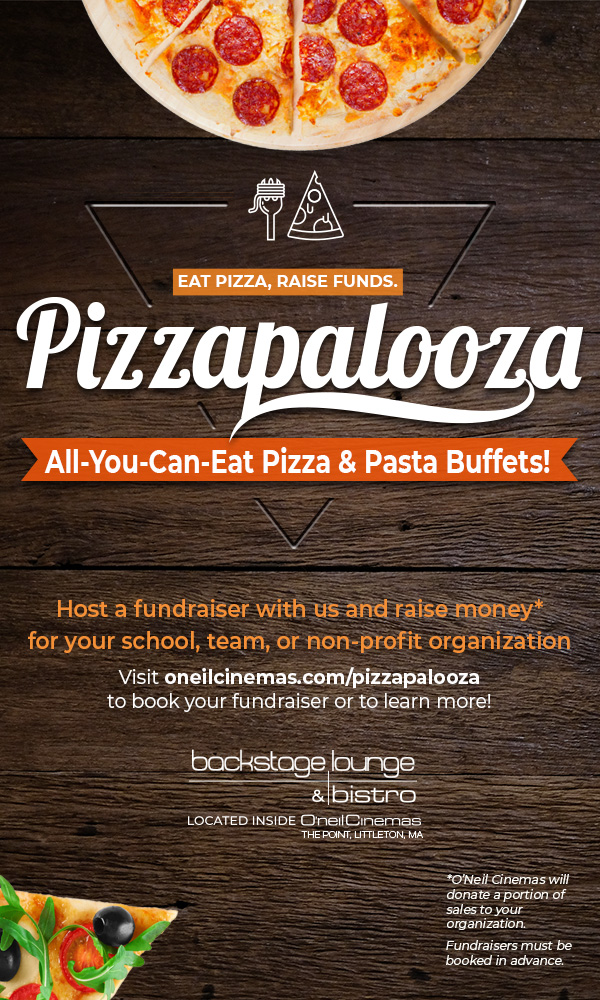 Fundraiser Helpful Hints
Schedule events early. Although a minimum two-week notice is required to schedule an event, you can schedule your fundraiser up to 3 months in advance.
Schedule events often. You may schedule one fundraiser every 30 days. The more events you host, the more money your organization can earn.
Get the word out. Distribute your official event flyer to family and friends in person, through email and using social media. Promote the event on public bulletin boards and marquees.
Alert the press. Contact local newspapers and media who might share information on charitable events.
Encourage your guests to bring family and friends. By inviting your guests to bring one more person, you can double your donation total.
Send a reminder. A few days before your fundraiser, remind your family and friends of the event.
Don't forget your flyer. Make sure that everyone attending your fundraiser brings an official event flyer with him or her. We also accept flyers shown on a digital device. Fundraiser guests are required to present a valid fundraiser flyer with each order to receive credit for the fundraiser.
Ready to book your event?
To book a Pizzapalooza fundraising event, fill out this contact form below.